Of Mice and Men Revision Guide ( Section 5 )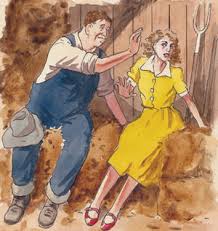 Of Mice and Men Revision Guide ( Section 5 )
Of Mice Men by John Steinbeck
(Section 5)
Unit 3: Curley's wife enters the barn and starts flirting with Lennie;
P: Curley's wife enters the barn looking totally ill suited to life on the ranch:
E: Her face was made up and the little sausage curls were all in place. (P122/CW)
E: Throughout the novel, the woman is presented as little more than an object who is nice-to-touch, and present solely for the benefits of men. She views herself as a commodity or object of sensuality and is regarded as Curley's property, a chattel (personal possession) of the ranch like the other men. She plays the part of a seductress, which is the only role she truly knows how too play. Steinbeck said of Curley's wife, 'She is a nice kind girl and not a floozy. She is however, hardened by the attitude of men.'
Saved By The Teacher Revision Notes based on the PEE code (Point, Evidence, Explanation) are unique and unlike any other revision guides on the market because students and their parents can systematically track through the full text using a series of colour-coded buttons to help map plot, character development, themes, historical context and use of language.
Experienced teacher Sarah Haggar Batten has tested the Saved By The Revision Notes over many years and has gathered much evidence to suggest that revising texts in conjunction with PEE Guides help improve results by at least one grade.
These comprehensive revision notes provide the voice of a personal home tutor and equate to approximately 12 hours of expensive personal tutoring. They can also be used as part of the on-going revision process and can be revisited several times. At the end of the revision process students can lay down their texts and rely on the notes to support last minute revision.
Sarah Haggar Batten is happy to provide parents, carers and students with further support and guidance via email in the first instance:
sarah@savedbytheteacher.com.