Of Mice and Men Revision Guide (Section 1)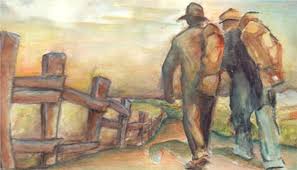 Of Mice and Men Revision Guide (Section 1)
P: Steinbeck paints a vivid picture of the natural world at the start of the novel in order to create a sense of atmosphere:
E: The water is warm too, for it has slipped twinkling over the yellow sands.
E: Steinbeck uses lyrical language including alliteration the 'water is warm' and personification, 'it has slipped twinkling over the yellow sands.' to describe the setting of the natural world. This brings the natural world alive in the imagination of the reader.
Saved By The Teacher Revision Notes based on the PEE code (Point, Evidence, Explanation) are unique and unlike any other revision guides on the market because students and their parents can systematically track through the full text using a series of colour-coded buttons to help map plot, character development, themes, historical context and use of language.
Experienced teacher Sarah Haggar Batten has tested the Saved By The Revision Notes over many years and has gathered much evidence to suggest that revising texts in conjunction with PEE Guides help improve results by at least one grade.
These comprehensive revision notes provide the voice of a personal home tutor and equate to approximately 12 hours of expensive personal tutoring. They can also be used as part of the on-going revision process and can be revisited several times. At the end of the revision process students can lay down their texts and rely on the notes to support last minute revision.
Sarah Haggar Batten is happy to provide parents, carers and students with further support and guidance via email in the first instance:
sarah@savedbytheteacher.com.